< Page under construction >
Our teachers at NAMI Big Island are offering more classes via Zoom. These are free, state-wide virtual classes, but you must register with us via email.

NAMI Family & Friends is a free 2-day seminar for people who have loved ones with a mental health condition. The seminar is led by trained people with lived experience of supporting a family member with a mental health condition. You will learn about treatment, communication, crisis strategies, and where to find community resources.
June 19 (Part 1) & 26 (Part 2) 10 a.m. to 12 noon
SPACE IS LIMITED
Register: info@namihawaii.org
For people who want to further their learning, or want interactive, hands-on training:

NAMI Family-to-Family is a free, 8-session educational program for family, significant others and friends of people with mental health conditions. It is a designated evidenced-based program. This means that research shows that the program significantly improves the coping and problem-solving abilities of the people closest to a person with a mental health condition. It is taught by NAMI-trained family members who have been there, and includes presentations, discussions and interactive exercises.
Learn about:
How to solve problems and communicate effectively
Taking care of yourself and managing your stress
Supporting your loved one with compassion
Finding and using local supports and services
Up-to-date information on mental health conditions and how they affect the brain
How to handle a crisis
Current treatments and therapies
The impact of mental health conditions on the entire family
July 10, 17, 24, 31, August 7, 14, 21, 28 (9 am to 12 noon HST) – Tentative
SPACE IS LIMITED TO 20 PARTICIPANTS
Register or find out more: info@namihawaii.org

More classes are planned to be held throughout the year, please check our programs page for tentative dates, or contact us via email.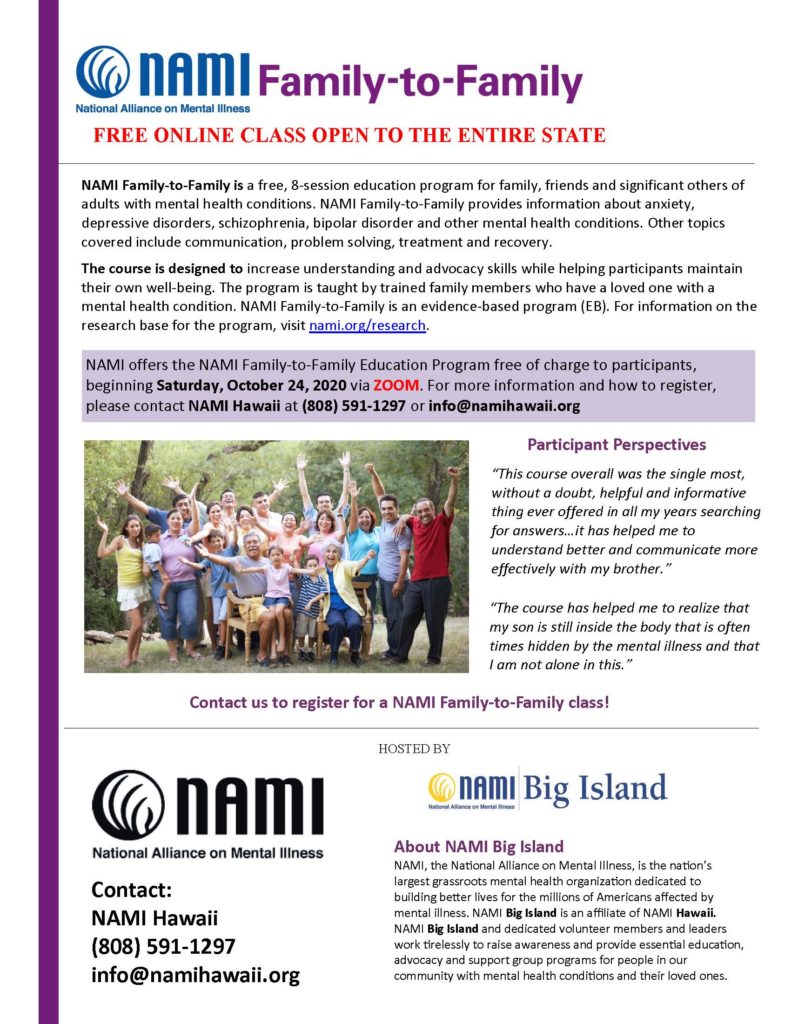 NAMI Big Island hosted an 8-session Family-to-Family class via Zoom in October 2020
On October 10, NAMIWalks Big Island held a virtual experience and joined by NAMIWalks across the country. NAMIWalks Your Way meant what it sounds like: participants got to make NAMIWalks their own. You could walk a 5K—through your neighborhood, around your backyard, on your treadmill. Or you could do something else meaningful and fun to celebrate our virtual walk day.