Oahu (October 14th, 2023)
NAMIWalks 2023 will be at the Honolulu Hale Civic Grounds, from 9am-1pm.
Questions can be directed to: lei@namihawaii.org
NAMI Big Island will also be holding a local walk.
Lili'uokalani Gardens
Hilo, Hawaii 96720; 9am-12pm
For info or volunteer opportunities, contact bigisland@namihawaii.org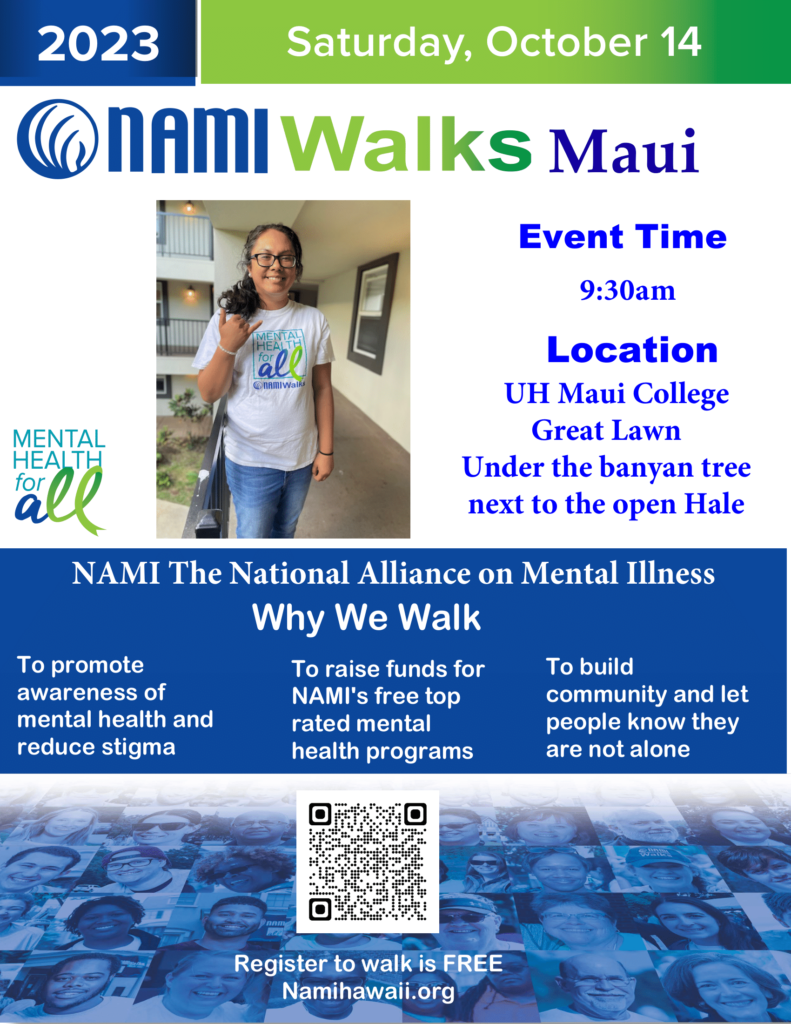 When can I register? You can sign up today until the day of the walk at NAMIwalks.org/hawaii and you can also register at the event, just head to the registration tent when you arrive. 
Where will the walk be located? The walk will be at the Honolulu Hale Frank F. Fasi Civic Grounds, 550 S King St, Honolulu, HI 96813. Parking will be available.
What if I don't live on Oahu? We have Walks available on Kauai, Maui, and Big Island as well! Click on the respective island to see the respective team pages for more info or to participate.
Are dogs allowed on Walk Day? Yes! You are welcome to bring your dogs to the walk, just be sure to bring a leash and have plastic bags and clean up after your dog.
Make sure to bring your team spirit! Posters, customized t-shirts or costumes, banners, and anything else that will make your team stand out is encouraged
Does it cost anything?

No. IT IS

FREE

. There is no registration fee, but we encourage everyone to raise at least $100 for a free t-shirt. There are other incentives for fundraising until 30 days after the walk. The more you raise, the better the prize, such as caps, jackets and other great items.

How do I get my event t-shirt?

If you have raised $100, you are eligible for an event t-shirt. Go to the registration tent to pick up your t-shirt voucher.

What will there be to do?

 Our main purpose is to raise awareness by walking together with our community, but there will also be f

ree wellness advice coping skills stations, entertainment, keiki games and activities, free gift bags (while supplies last), photo station, and more!
Can I turn in donations after the event? Yes, you may send donations after the event to: NAMI Hawaii, 770 Kapiolani Blvd. Suite 613, Honolulu, Hawaii 96813 or via the donation button on the DonorDrive page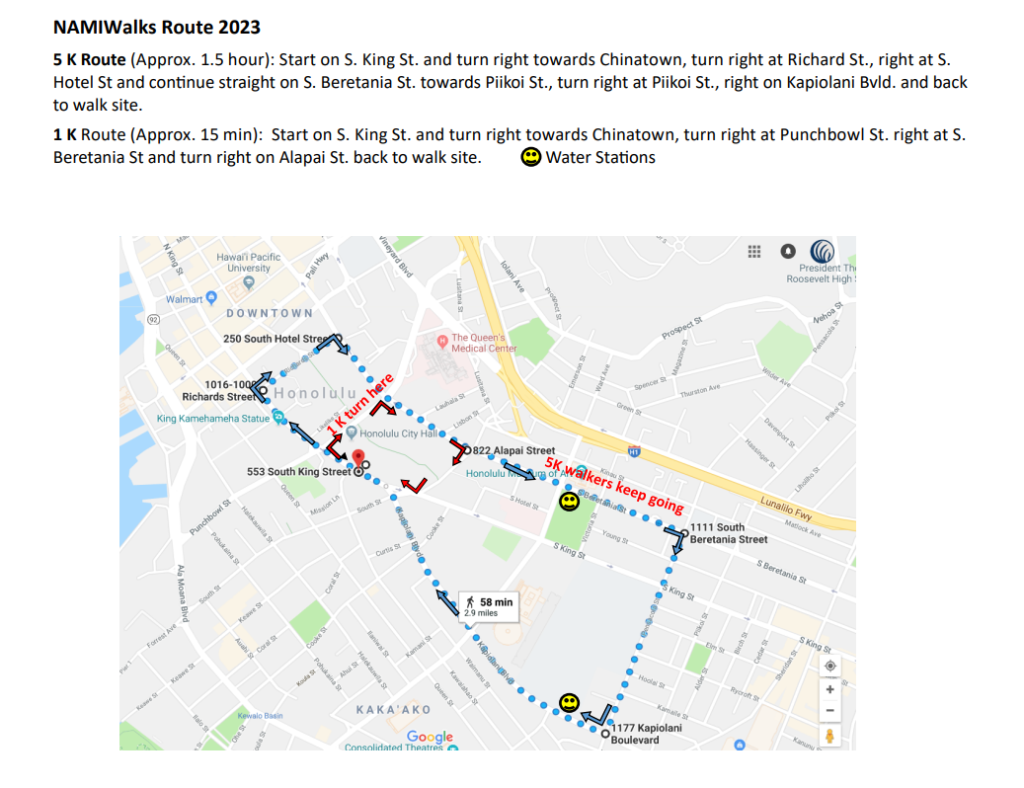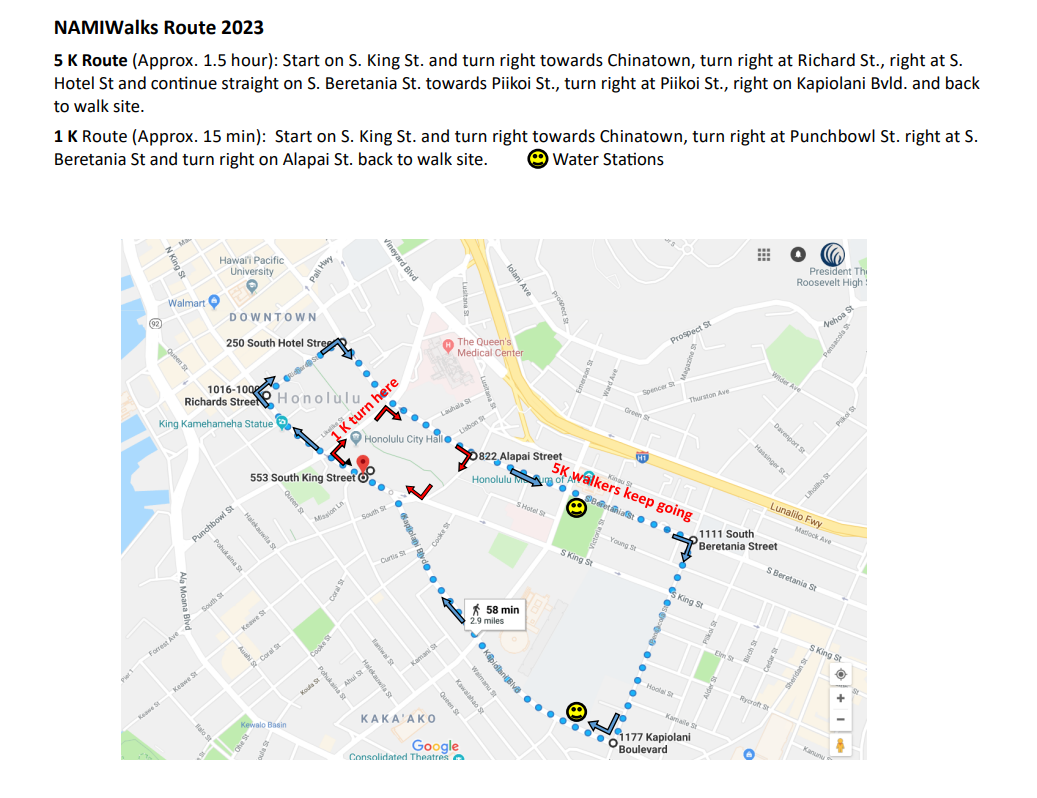 2023 Walk Schedule:
  8am-9am Registration, Wellness Tent, Games

  8:30am-9am Welcome & Entertainment Begins

  9am Walk Begins!

  10am-1pm Food Vendors Open

  11am-12pm Entertainment and Prizes

  1pm Mahalo for Walking with us!