More support group session dates are TBD as we figure out our scope in Maui support and outreach, but we are looking for on-island support group facilitators with the peer experience who are willing to go through facilitator training: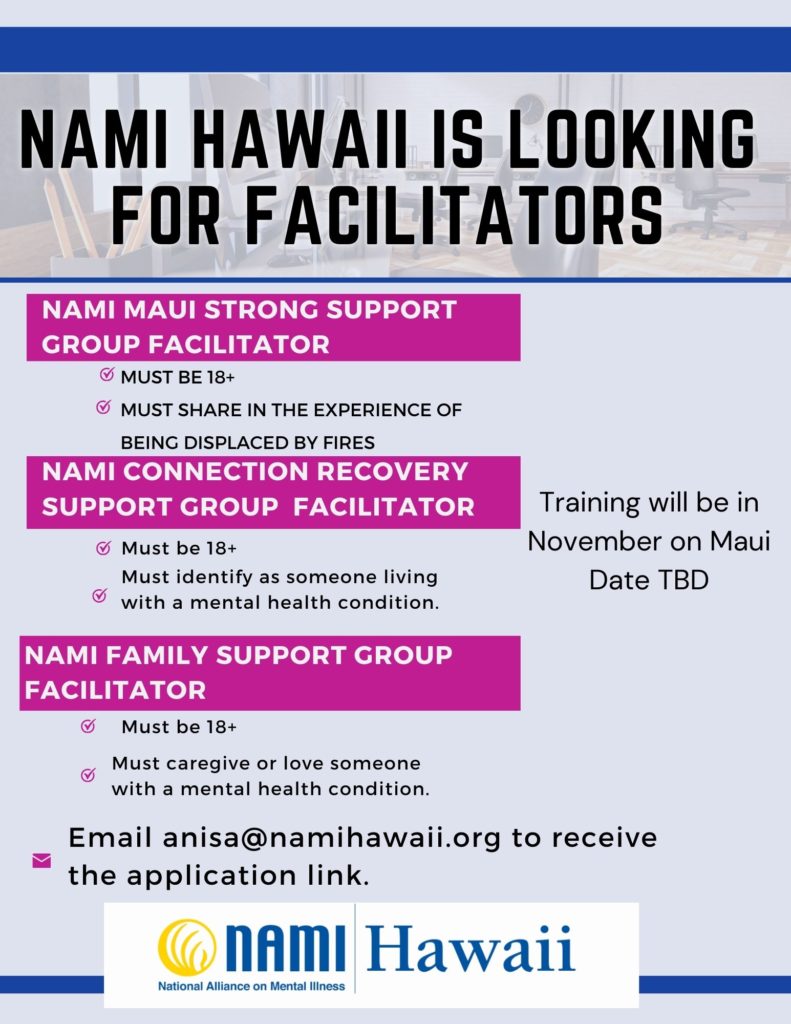 Please email anisa@namihawaii.org

For a list of other Trauma Resources for Maui, Click Here
Donate to support NAMI Maui or join the NAMIWalks Maui team: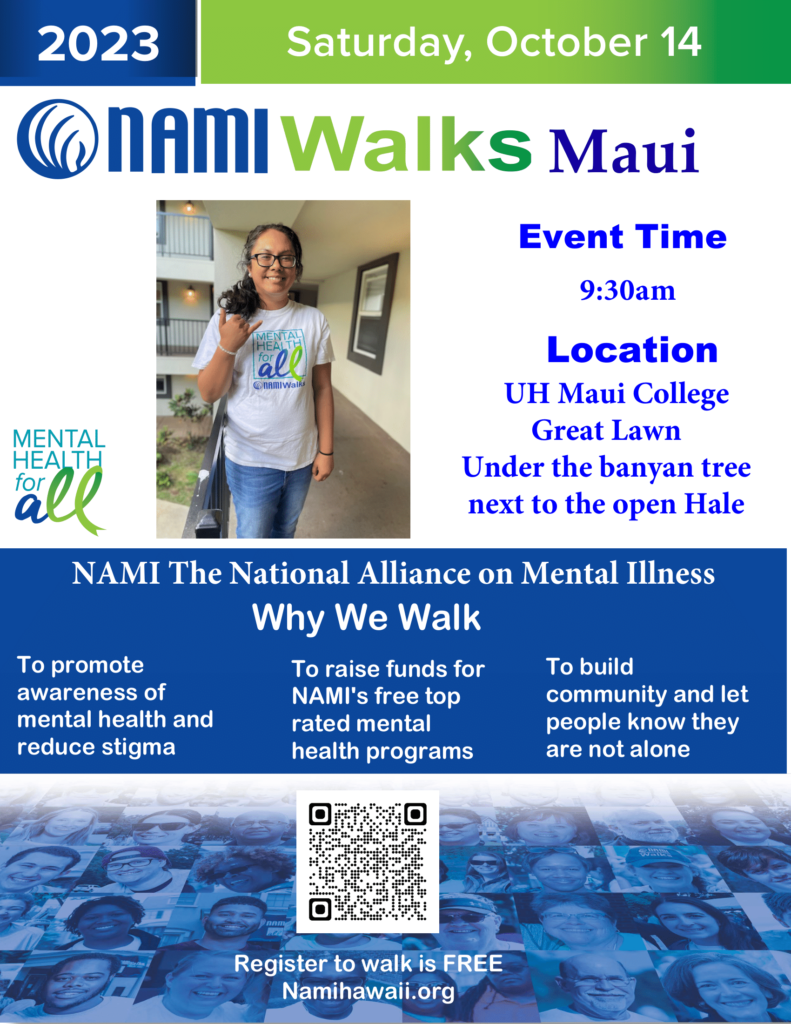 NAMIWalks 2023 is open for registration!
Sign up your team and start your fundraising now, and we will see you in person at the Honolulu Hale Civic Grounds in October!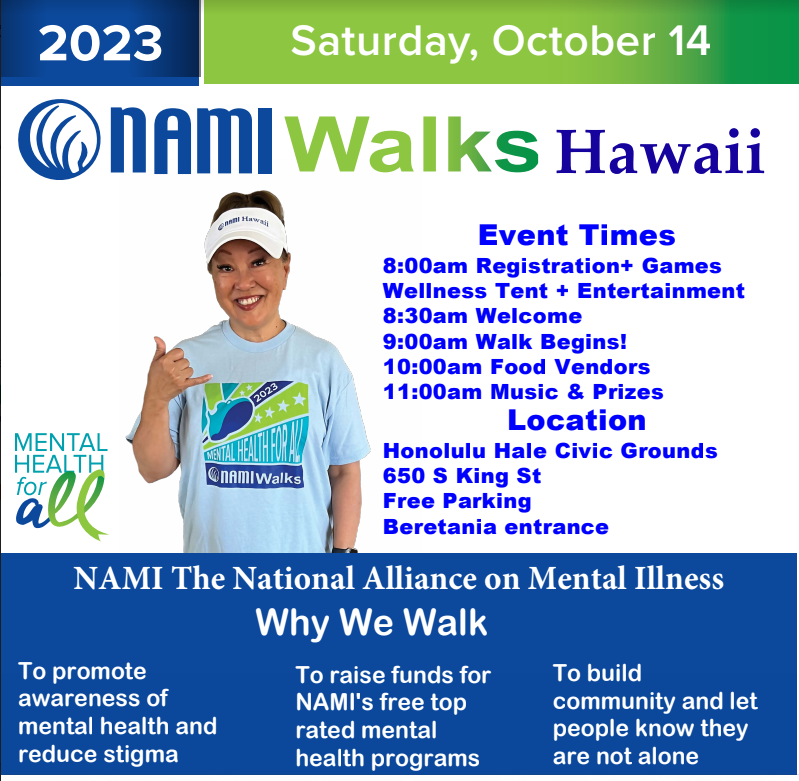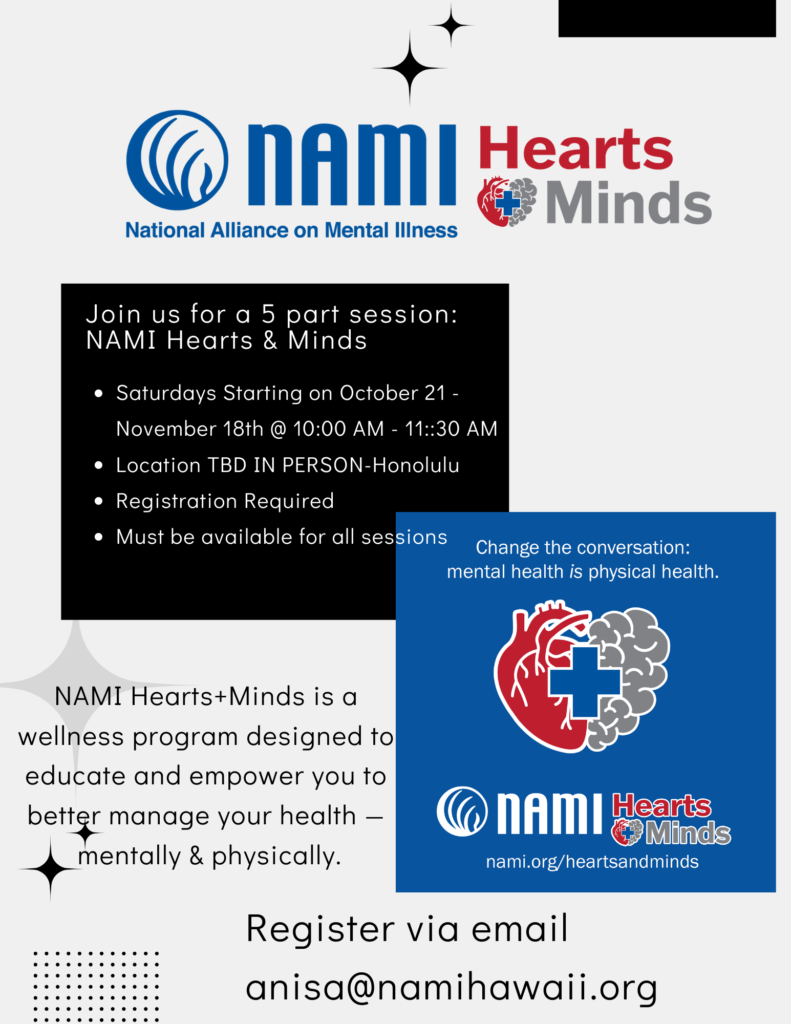 Join us in person for NAMI Hearts & Minds. The location is still to be determined, in person, in Honolulu. This is a 5 session series that will meet every week on Saturdays from 10:00 AM to 11:30 AM starting October 21- November 18th. Registration is required, please email anisa@namihawaii.org for registration. You must be available for all 5 sessions. Spots are limited, please don't sign up unless you are available for all.

Next class will be a one day 8 hour session in May 2024. Email anisa@namihawaii.org to be put on the list for that class. Open to any individual interested in mental wellness 18 and over. Attendees will learn:
Medical Self-Advocacy
Managing Prescriptions
Managing Pain
Kicking the Habit
Improving Sleep
Make Your Diet Work for YOU
Get Physical with Symptom Management
Social Support and Peer Wellness
find your island's affiliate:
NAMI Hawaii provides free support, education, information and resources.
If you or a loved one is struggling with a mental health condition, please contact us at info@namihawaii.org or give us a call at 808-591-1297.
Upcoming Events
Oct. 14, 2023
NAMIWalks Hawaii
NAMIWalks Big Island
NAMIWalks Kauai
Nov 4 – Nov 11, 2023
Family & Friends Seminar
Dec 2 – Dec 16, 2023
Family & Friends Seminar
~
Events require registration. Please contact us for more info, email at info@namihawaii.org or call us at (808)-591-1297
Welcome to NAMI Hawaii. We Invite YOU to be a Part of Our Community.
We are NAMI Hawaii the state organization of NAMI (National Alliance on Mental Illness), the nation's largest grassroots mental health organization dedicated to building better lives for the millions of Americans living with mental illness and their families. Founded in 1979, NAMI has become the nation's voice on mental illness. With organizations and affiliates in every state, NAMI effectively provides advocacy, research, support, and education about mental illness.
Established in 1991, NAMI Hawaii State is also dedicated to improving the quality of life of individuals and families affected by mental illnesses. Through support, education, advocacy, and awareness we improve the lives of people in Hawaii who live with mental illness. We serve our community by empowering these people to confront the profound injustices brought on by the difficulties they are forced to endure. Along with our supporters and volunteers we work to chart a course to meaningful change in Hawaii and a path to recovery.
NAMI Signature Programs and Support Groups
Visit our Programs & Services page, or contact: info@namihawaii.org for more information
NAMI Programs are for people whose lives have been affected by mental illness. At NAMI Hawaii, you'll meet families who have struggled with the mental illness of their loved ones or people living in recovery from mental illness.  We come together, in a safe and comfortable setting, to share our struggles, promote hope and build a better tomorrow for our loved ones and for ourselves.  NAMI Hawaii is committed to offering community-focused education, advocacy, and support programs for family caregivers and individuals living in recovery.
We believe treatment works, recovery is possible, there is hope, and you are not alone! Join us and see.