2023 Hearts and Minds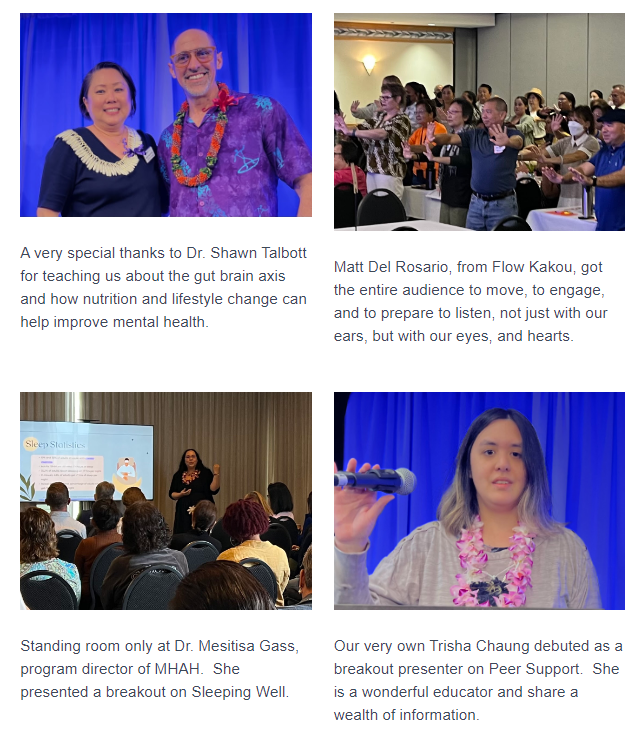 NAMI Hawaii State Conference was held on March 28, 2023 at the Japanese CUltural Center with over 185 attendees.  We had a great time connecting with our community in person after three years of online conferences. We want to thank our partners, Mental Health America of Hawaii and our presenting sponsor, Amare Global.
2022 Community of Hope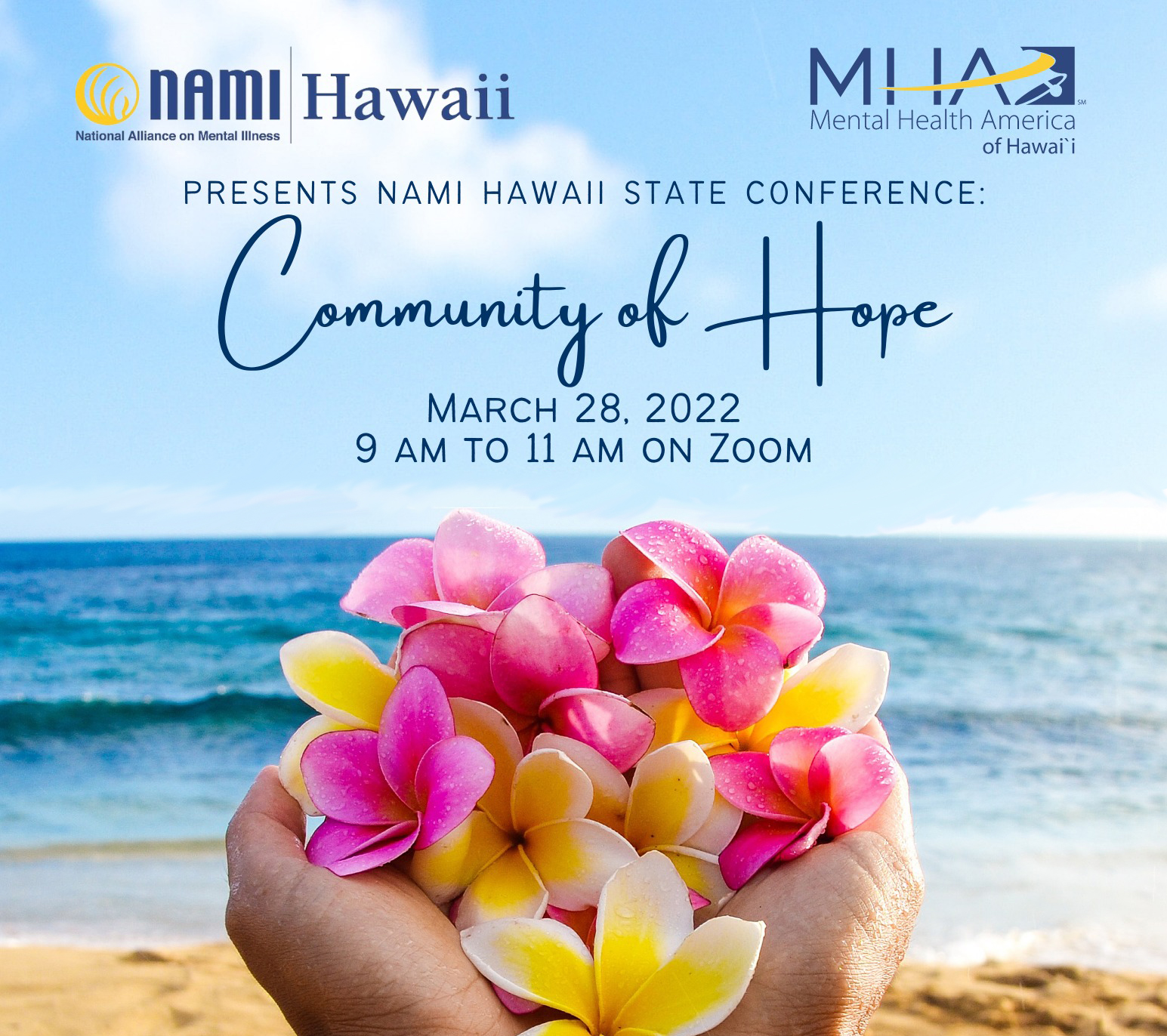 NAMI Hawaii's 2022 conference focused on hope through sharing experiences and faith from various cultures/religion, and showcased NAMI Hawaii's role in CIT.


2021 Community Resiliency for Hawaii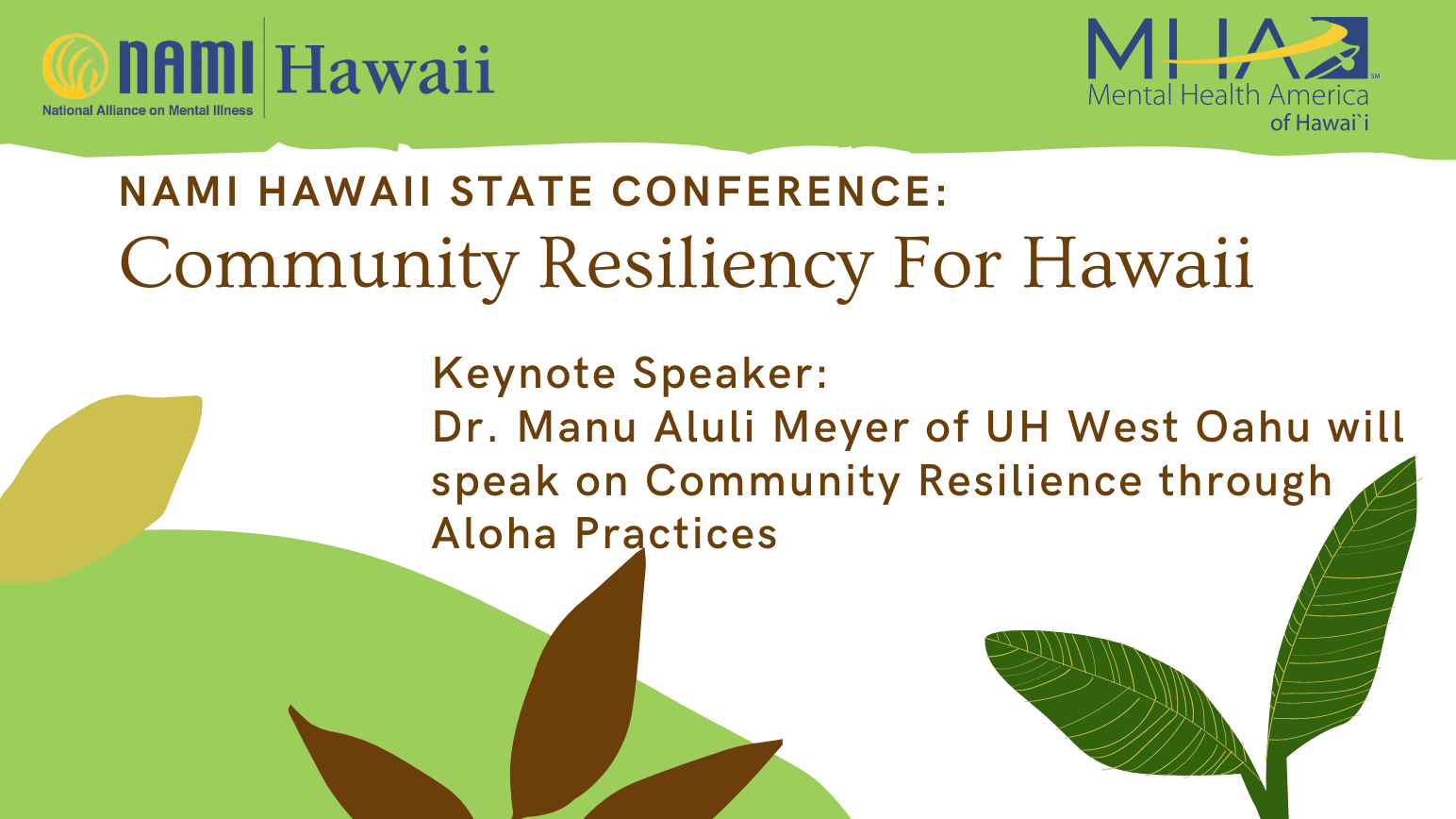 NAMI Hawaii's state conference, Community Resiliency For Hawaii, was held virtually on March 22.
2020 Together Toward Tomorrow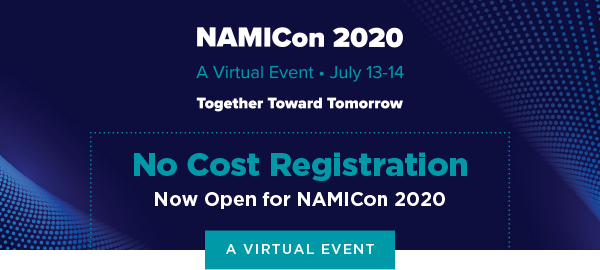 A virtual NAMI convention held nationally across 48 states. You can click here to learn more and view recordings of the presentations.
2019 RADICAL SELF CARE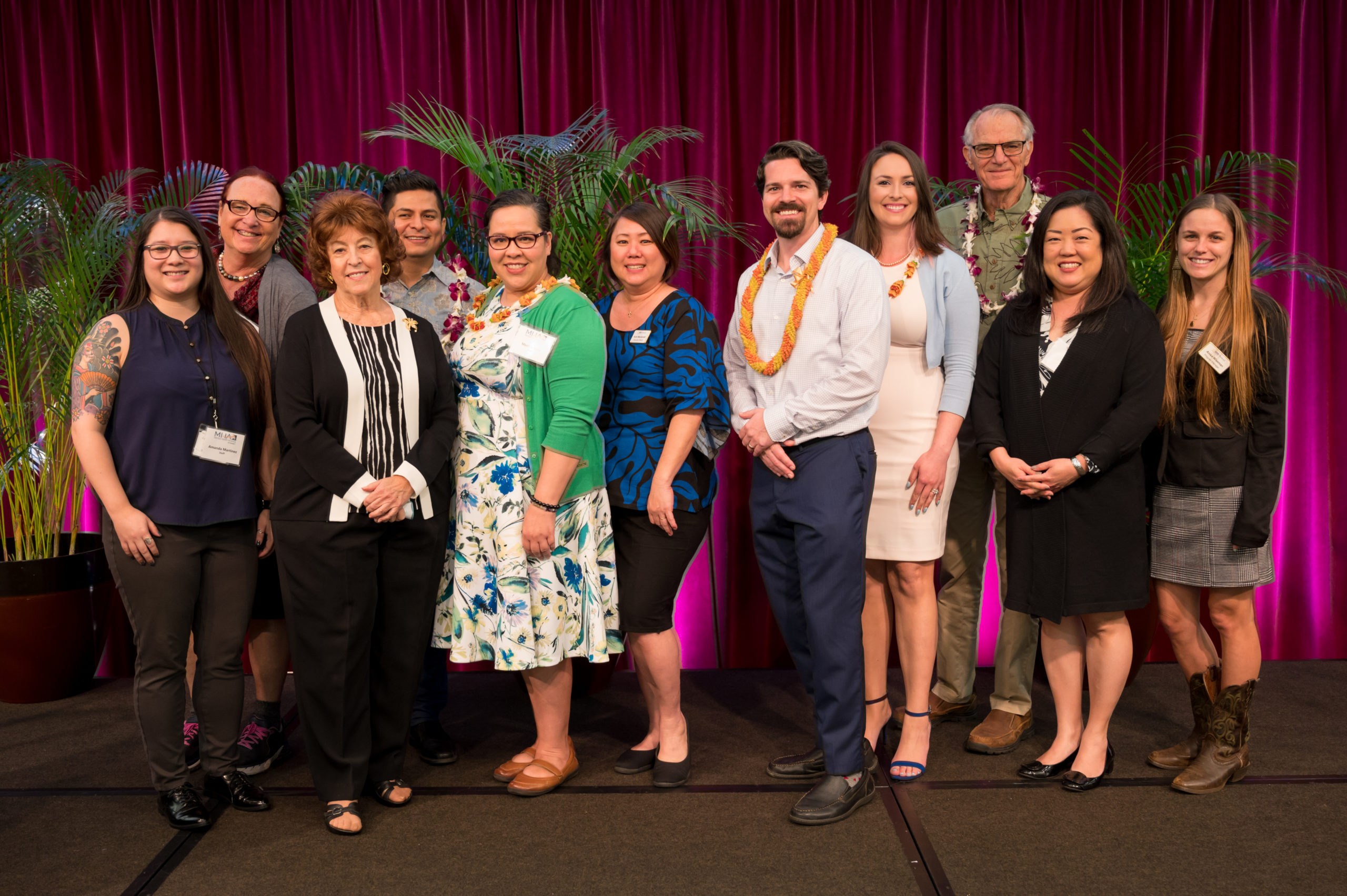 NAMI Hawaii State Conference 2019 With Mental Health Americal Of Hawaii & Sutter Health Kahi Mohala
Key Note Speaker: Dr. Paul Hutman, PhD Northern California VA Health Care Systems speaking on Brilliantly Battling Burnout>

Watch on Youtube HERE.
Breakouts:
Mediation Practices By Paul Hutman, PhD
Art and Mental Health Break Out By Mestisa Gass, PsyD, Program Director, Mental Health America of Hawaii
Live Your Life Well, Digitally By Pedro Haro is the Deputy Director for Mental Health America of Hawaii
Date: Friday, March 8, 2019  
Location: Pomaikai Ballrooms at Dole Cannery
2018 Healthy Living for Mental Wellness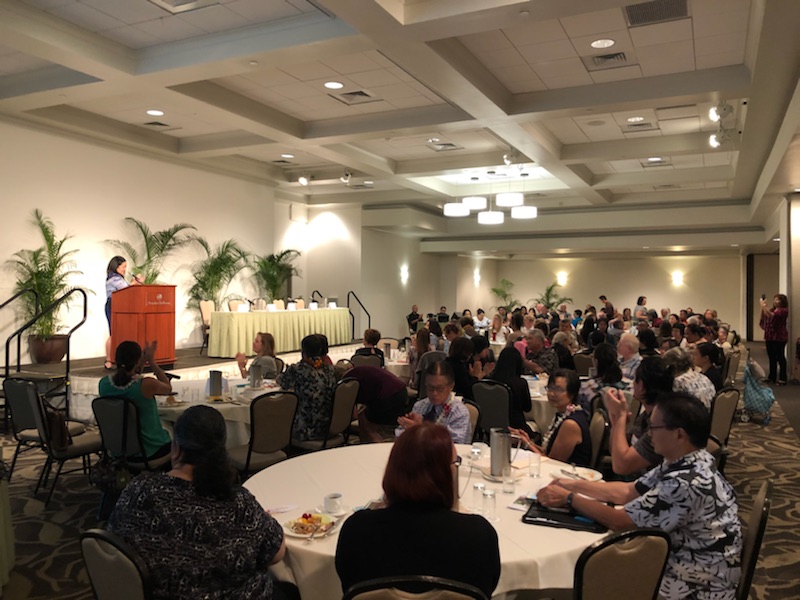 We all have mental health challenges. Join us in learning what we can do to improve our overall health to feel better and support our loved ones.
Keynote Speaker: Paul Gionfriddo, President of Mental Health America
Panelist:
Denis Mee-Lee, Jacqueline Chan, Mara J. Pike, Anisa Wiseman
~
– new science on the connection of nutrition and exercise to improved mental health
– healthy lifestyle changes for yourself, your family, your workplace, and your community
– innovative practices to reduce stress and improve mental and emotional wellbeing
2017 For People with Mental Illness: Why We Fight in the Open
NAMI Hawaii State Conference 2017 in Partnership with Mental Health America of Hawaii
Key Note Speaker: Paul Gionfriddo, President and CEO of Mental Health America
Topic:
"As the parent of a now-adult son Tim, who developed a serious mental illness while only a child, Paul has experienced first-hand the challenges families face in accessing services and supports for loved ones. Through his interactions with educators, providers, insurers, lawyers, sheriffs, and others with whom Tim interacted, Paul developed a clear understanding of the barriers that we face on pathways to recovery and independence. He has brought this decades-long experience to his writing in his book, Losing Tim, and to his work as President and CEO of Mental Health America, the nation's oldest mental health advocacy organization. He speaks openly, honestly, and passionately about how systems can respond to and support individuals and families who have lived through these experiences if we fight openly for what we need, and offers hope for the future."
Panelist: Paul Gionfriddo CEO of Mental Health America, Pam Gionfriddo;CEO of Mental Health Associations of Palm Beach County; Psychiatrist, Dr. Deborah Kissinger; Kathleen Rhoads Merriam from Hawaii Adult Mental Health Division and Corey Arakaki, UH West Oahu Student living in recovery.
2016 Mental Health: Breaking the Stigma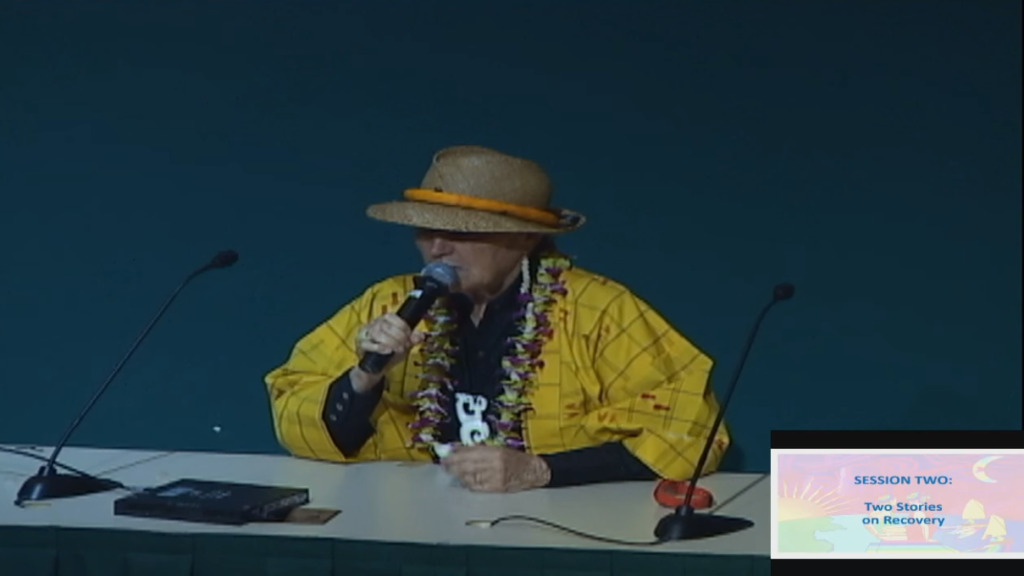 NAMI Hawaii and Queen's Medical Center Day Treatment Services presents the 2nd annual NAMI Hawaii Conference dedicated to the memory of Benjamin Madigan Snavely.
The purpose of this conference was to provide awareness and an overview of mental illness and addiction; art therapy; and information on services, family support programs, and treatment services.   
Date: Saturday, June 18, 2016 
Location: Queen's Conference Center  
Mental Illness and Addiction 
Speaker DR. DEBORAH KISSINGER, DO, specialist in addiction psychiatry at Queen's Medical Center speaking on the co-occurring disorder, and two individuals sharing their recovery story.  Also information on services and support.   
Art Therapy Workshop for Mental Health (Afternoon Speakers and Art Workshop) First speaker, KATE MADIGAN, a licensed art therapist from Patton State Hospital in California.  Second speakers, SELF-DISCOVERY THROUGH ART,  NIDHI CHABORA, APRN and NANCY JOE "NJ" MOSES, MA, a visual arts educator.
2015 Mental Health: A Compassionate Response
The purpose of this conference was to provide an overview of mental illness and to increase understanding and compassion across our faith and other communities. We welcomed church staff, volunteers, clergy, ushers, greeters, family members, the interfaith community, and anyone who is in contact with the seriously mentally ill.   
GENERAL SESSION
Dr. Denis Mee-Lee. MD, Clinical Professor of Psychiatry at the University of Hawaii and Jerry Coffee, LCSW, Clinical Director of IHS, presented an overview of mental illness and recovery.
BREAK-OUT CONVERSATIONS:
1st and 2nd Response to the Mentally Ill  
Mental Illness In Your Family
Faith and the Mentally Ill