Online Programs & Services
Online Programs are FREE
Contact us to sign up or find out more: Tel.
591-1297
(phone lines open M-F: 9am to 1pm) Email:
info@namihawaii.org
Before the start of the meeting or webinar, you will receive an email with a link to connect to
Zoom
. You can connect via computer, phone, or tablet. If you have a smart phone or tablet, a dial-in option is available if you do not wish to download the Zoom app. If you would like to download Zoom in advance, you can click
here
.
If you do not get an email confirmation, check your Spam folder or let us know ASAP.
Once the meeting starts, we may not be able to help you log in.
For signature NAMI Programs (Family and Friends, Family Support Groups, Connection Recovery, Homefront)
CLICK HERE for updated information
Other Online Event Updates:

What is the NAMI Connection Recovery Support Group Program?
NAMI Connection is a recovery support group program that offers respect, understanding, encouragement and hope. NAMI Connection groups are:
Free and confidential
Held monthly for 90 minutes
Designed to connect, encourage, and support participants using a structured support group model
Led by trained facilitators living in recovery themselves
NAMI Hawaii, the local organization of the National Alliance on Mental Illness, will offer its NAMI Connection Recovery Support Group Program for the fall beginning on October 13, 2020. It will be held on the 2nd Tuesday of every month at 6:30 pm via Zoom.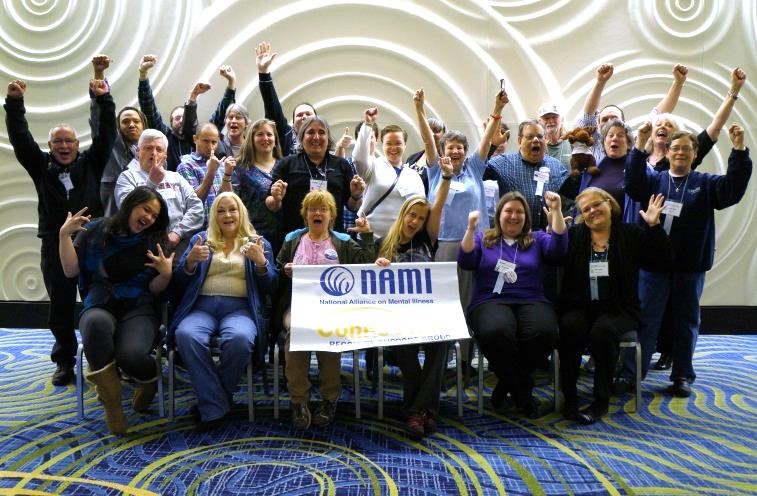 Participant Perspectives:
"NAMI Connection has made me realize that I can truly feel comfortable around my peers and I really needed that feeling!"
"I believe NAMI Connection means hope."
"NAMI Connection is the promise of what is and what can be in our lives."
Contact us to find out more about NAMI Connection Recovery Support Groups! – info@namihawaii.org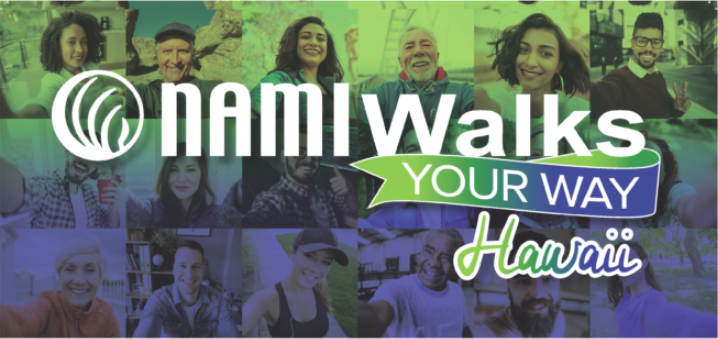 What does a virtual walk look like?

We are trying to create the same sense of community that we all feel in person, online. Join us for a day of community. We will have 30-minute Zoom sessions where we can practice or learn some coping skills, also live-streamed on Facebook. Enjoy time for us all to walk in our own neighborhoods at the same time and some stories of hope.
On September 14, 2020, NAMI Hawaii along with our partnership with Mental Health America of Hawaii, Treatment Advocacy Center (TAC) along with our various sponsors, held our NAMI Hawaii State Conference Assisted Community Treatment Training  Overview.  We had over 120 live participants including Department of Health, case managers, medical and mental health professionals, judicial and law enforcement, families and community members.  Our Virtual Orientation was live with Treatment Advocacy Center's Implementation Team, including Brian Stettin, Amy Lukes and Betsy Johnson.  
CEUs APPROVED:  To receive CEUs, you must register and take the online modules by going to https://smiadviser.org/about/aot
CEs APPROVED: NASW-HI (3), ADAD (3.25) & HCPS (2.5) Contact mestisagass@mentalhealthamerica.org for more info CMEs for medical doctors provided by APA
RECORDING of OVERVIEW with Treatment Advocacy Center:
https://us02web.zoom.us/rec/share/RliqKyA7vzUubydpCAbl9eyhrEk9yGNjRIml3KfgRsdviOlySg6_Y8W36Bnt8VXY.cJ3GLBn1869l-FAR
Access Passcode: **JsC+5c
Please take a couple of minutes to fill out this evaluation form: https://forms.gle/rH6V9LrG7sQWvq1U8

NEXT STEP:
09/14/20 – 01/04/2021 Participants move through online training modules at their own pace. Register at: https://smiadviser.org/about/aot
01/18/2021 (Tentative Date) Participants will have the opportunity to meet with presenters for live Q & A.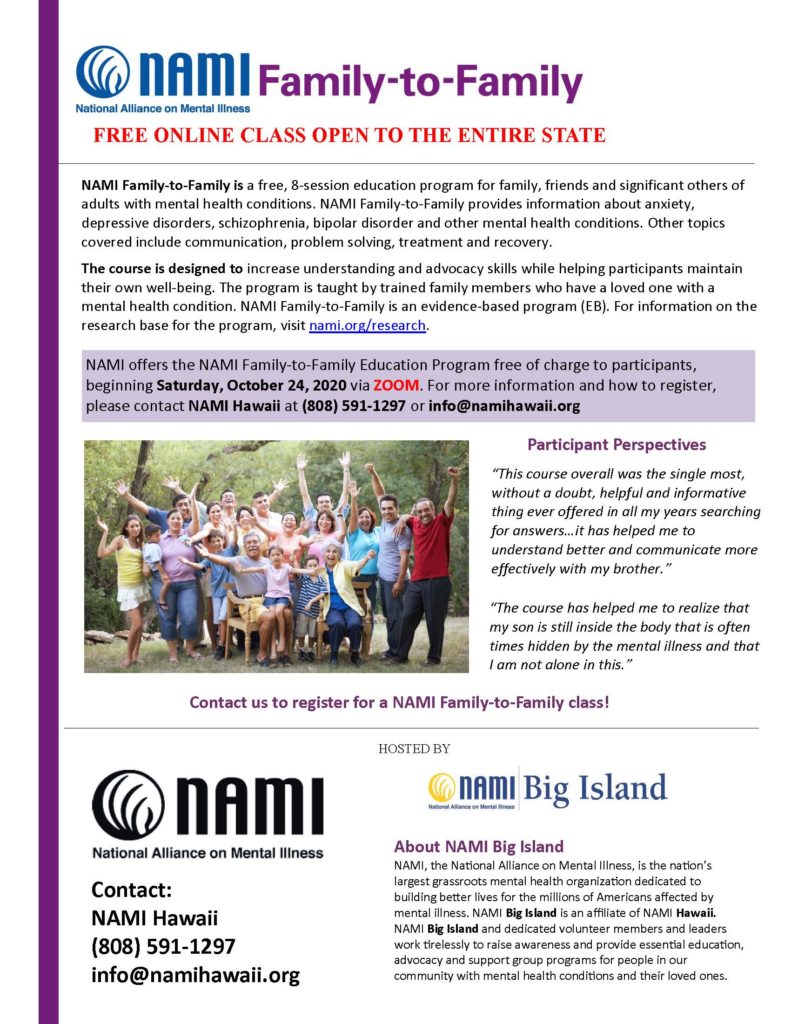 Our affiliate, NAMI Big Island, is hosting an 8-session Family-to-Family class via Zoom starting October 24th,10:30 a..m. – 1:00 p.m (HST).
Please email us at info@namihawaii.org or call us at (808) 591-1297 to register or to find out more.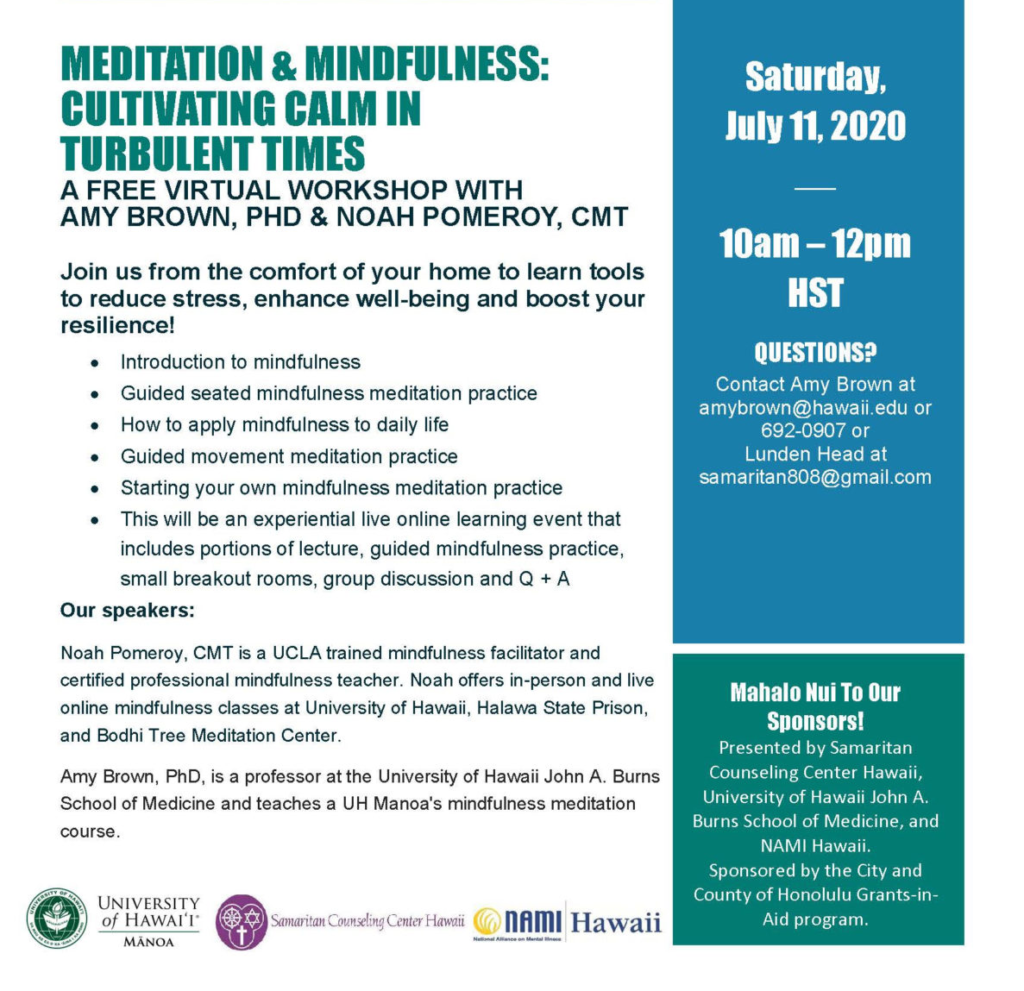 This workshop has concluded, but you can contact Amy at amybrown@hawaii.edu or follow the Samaritan Counseling Center of Hawaii on eventbrite for information on future events.