Online Programs & Services
Online Programs are FREE
Contact us to sign up or find out more: Tel.
591-1297
(phone lines open M-F: 9am to 1pm) Email:
info@namihawaii.org
Before the start of the meeting or webinar, you will receive an email with a link to connect to
Zoom
. You can connect via computer, phone, or tablet. If you have a smart phone or tablet, a dial-in option is available if you do not wish to download the Zoom app. If you would like to download Zoom in advance, you can click
here
.
If you do not get an email confirmation, check your Spam folder or let us know ASAP.
Once the meeting starts, we may not be able to help you log in.
For signature NAMI Programs (Family and Friends, Family Support Groups, Connection Recovery, Homefront)
CLICK HERE for updated information
Other Online Event Updates: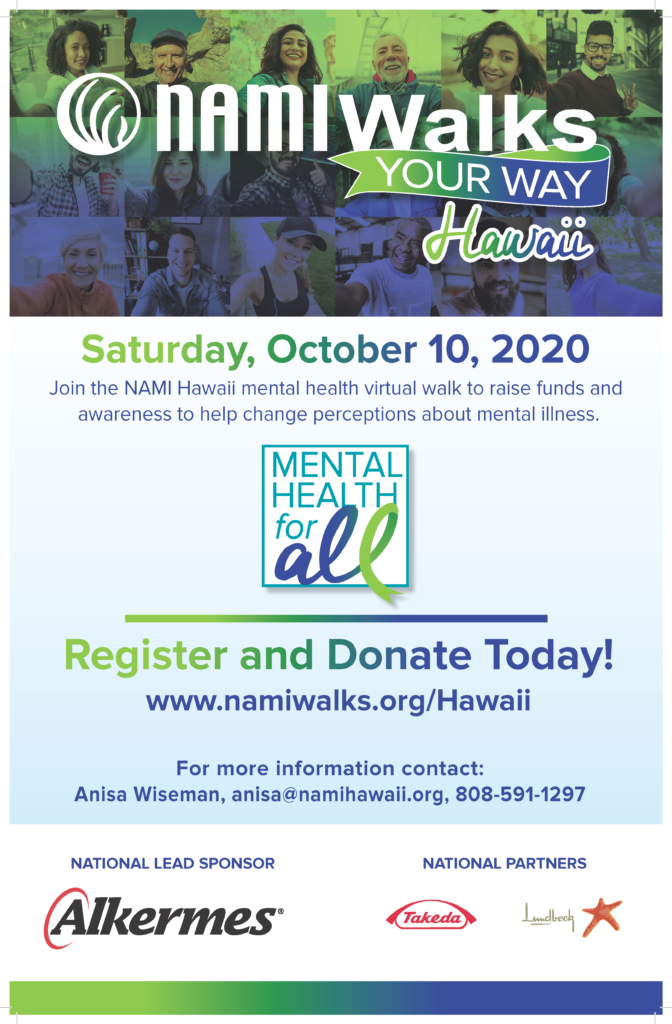 What does a virtual walk look like?

We are trying to create the same sense of community that we all feel in person, online. Join us for a day of community. We will have 30-minute Zoom sessions where we can practice or learn some coping skills, also live-streamed on Facebook. Enjoy time for us all to walk in our own neighborhoods at the same time and some stories of hope.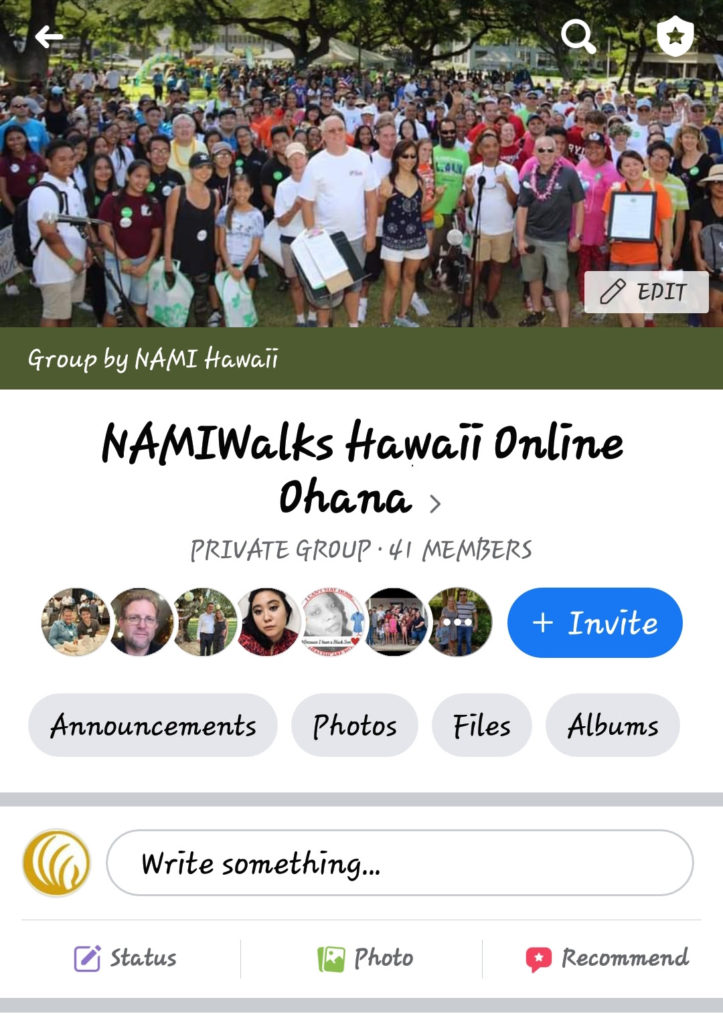 Join our Facebook Group: NAMIWalks Hawaii Online Ohana
We will share activities from the day here, please be a part of our online community.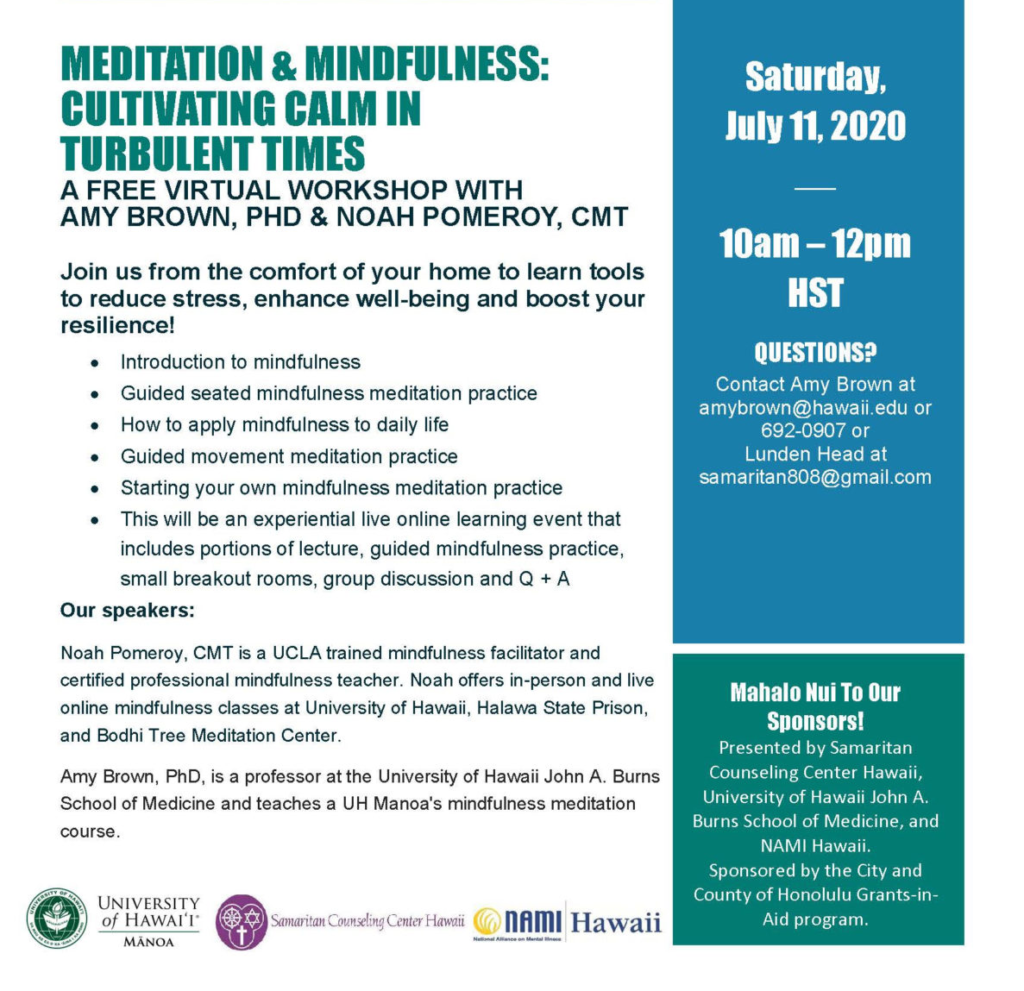 This workshop has concluded, but you can contact Amy at amybrown@hawaii.edu or follow the Samaritan Counseling Center of Hawaii on eventbrite for information on future events.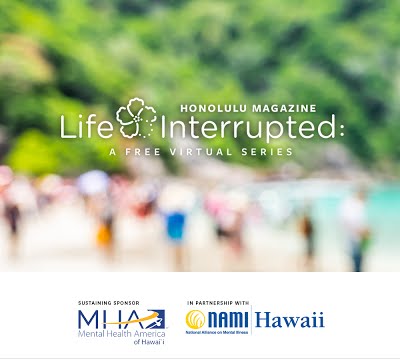 Throughout May and June, HONOLULU Magazine, in partnership with the NAMI Hawaii, hosted Life Interrupted, a free, five-week virtual series on mental wellness to share tools that help us navigate these challenges throughout the COVID-19 pandemic.
In these virtual talk-story sessions, our panel answered crowd-sourced questions from attendees, offered expert advice, and shared tips, coping strategies and more.

The series concluded on June 18th, but you can watch the recap videos for any of the 5 panels here:
http://www.honolulumagazine.com/Honolulu-Magazine/May-2020/Life-Interrupted-A-Free-Virtual-Series-on-Mental-Wellness/