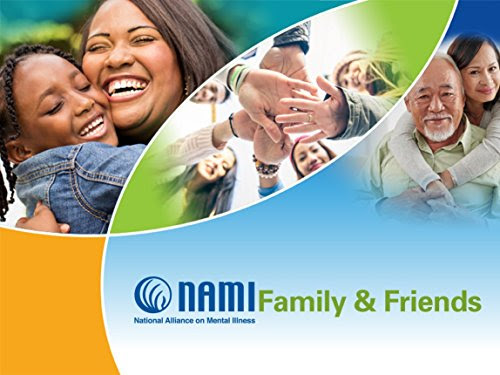 Family and Friend is a 4-hour seminar to inform people who have loved ones with a mental health condition how to best support them.

Join us this Saturday on October 3, 11:00 am to 1:00 pm via Zoom

Space is limited, so please register in advance.

What You'll Learn:
The seminar is led by trained people with lived experience of supporting a family member with a mental health condition.

They will walk you through the following topics:

– Understanding diagnoses, treatment and recovery
– Effective communication strategies
– The importance of self-care
– Crisis preparation strategies
– NAMI and community resources

What People Are Saying:
"Hearing personal experiences and how relatable my experiences are to them was very helpful. Hearing specific strategies to communicate and specific traits that people with mental illness have. Know that the illness is what can cause "cruelty" and poor decisions rather than the person."

"I have a better understanding of how mental illness impacts the person affected…it was nice to hear the stories of the instructors and their paths. The handbook (eBook) given has a lot of helpful information which I did not know about."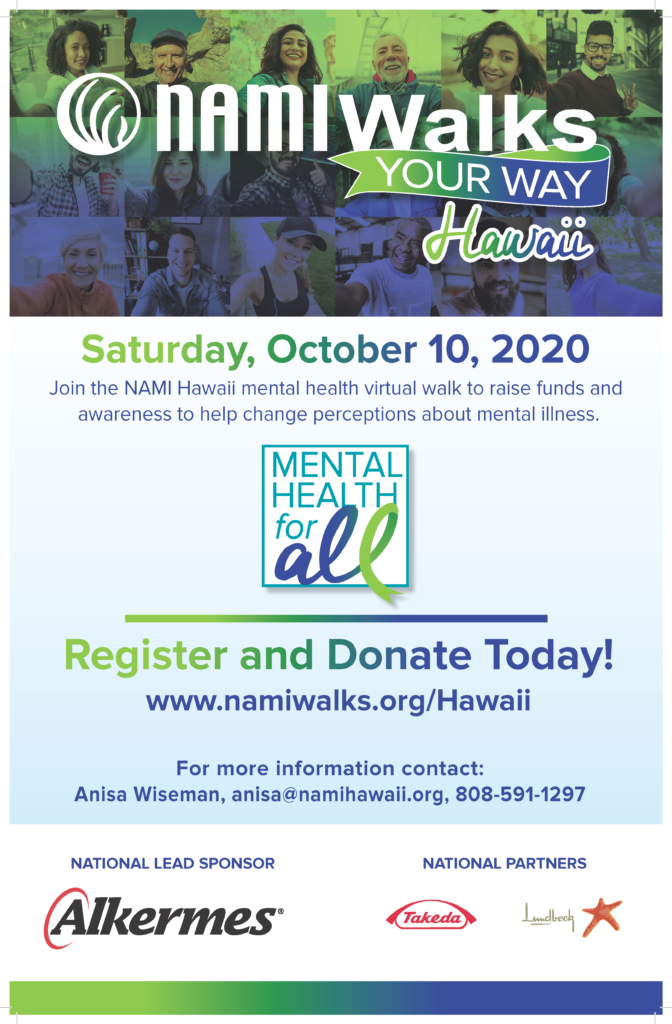 What does a virtual walk look like?

We are trying to create the same sense of community that we all feel in person, online. Join us for a day of community. We will have 30-minute Zoom sessions where we can practice or learn some coping skills, also live-streamed on Facebook. Enjoy time for us all to walk in our own neighborhoods at the same time and some stories of hope.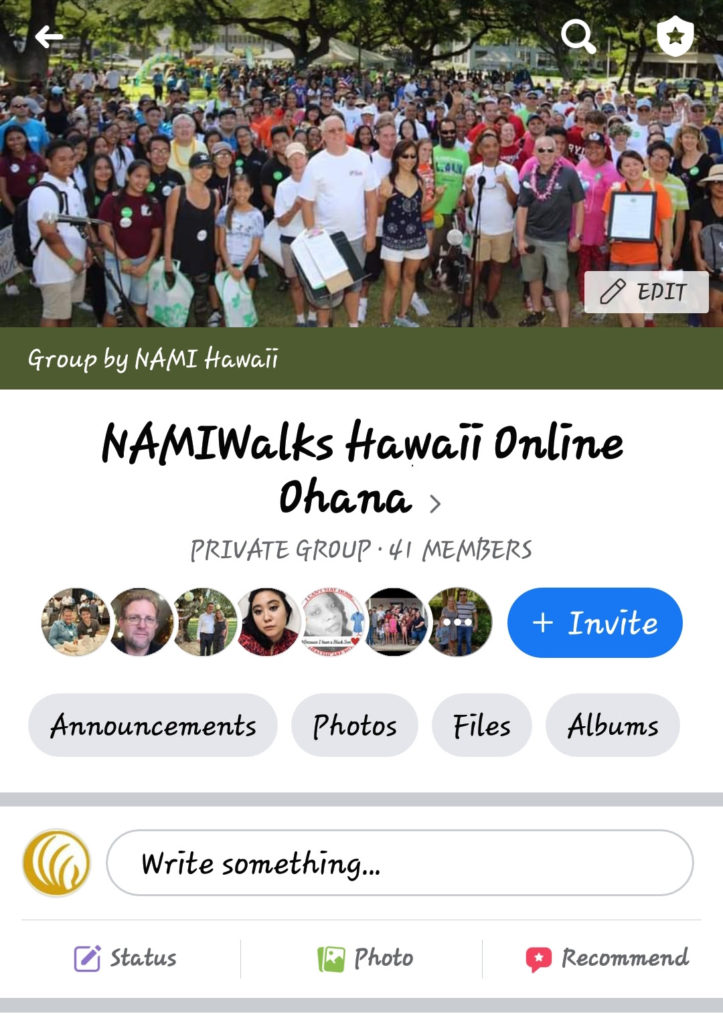 Join our Facebook Group: NAMIWalks Hawaii Online Ohana
We will share activities from the day here, please be a part of our online community.
On October 10, NAMIWalks Big Island will be a virtual experience and joined by NAMIWalks across the country. NAMIWalks Your Way means what it sounds like: participants get to make NAMIWalks their own. You can walk a 5K—through your neighborhood, around your backyard, on your treadmill. Or you can do something else meaningful and fun to celebrate our virtual walk day.

Register here

Join us on Zoom for free online support groups and webinars. Click here for more info.
NAMI Hawaii provides free support, education, information and resources.
If you or a loved one is struggling with a mental health condition, please contact us at info@namihawaii.org or give us a call at 808-591-1297.
Welcome to NAMI Hawaii. We Invite YOU to be a Part of Our Community.
We are NAMI Hawaii the state organization of NAMI (National Alliance on Mental Illness), the nation's largest grassroots mental health organization dedicated to building better lives for the millions of Americans living with mental illness and their families. Founded in 1979, NAMI has become the nation's voice on mental illness. With organizations and affiliates in every state, NAMI effectively provides advocacy, research, support, and education about mental illness.
Established in 1991, NAMI Hawaii State is also dedicated to improving the quality of life of individuals and families affected by mental illnesses. Through support, education, advocacy, and awareness we improve the lives of people in Hawaii who live with mental illness. We serve our community by empowering these people to confront the profound injustices brought on by the difficulties they are forced to endure. Along with our supporters and volunteers we work to chart a course to meaningful change in Hawaii and a path to recovery.
NAMI Signature Programs and Support Groups
CONTACT: info@namihawaii.org or Call 808-591-1297 for more information
NAMI Programs are for people whose lives have been affected by mental illness. At NAMI Hawaii, you'll meet families who have struggled with the mental illness of their loved ones or people living in recovery from mental illness.  We come together, in a safe and comfortable setting, to share our struggles, promote hope and build a better tomorrow for our loved ones and for ourselves.  NAMI Hawaii is committed to offering community-focused education, advocacy, and support programs for family caregivers and individuals living in recovery.
We believe treatment works, recovery is possible, there is hope, and you are not alone! Join us and see.
OTHER EVENTS in 2020
September 14, 2020       Assisted Community Treatment Training Online
FALL  2020                       NAMI Family and Friends – New Online Program       
October 10, 2020            NAMIWalks Hawaii  & NAMIWalks Big Is. Virtual Walk Online
December 12, 2020        Annual Celebration
DATES ARE SUBJECT TO CHANGE.  Events require registration.  Please contact us for more information, email at info@namihawaii.org or call us at   (808) 591-1297.